Your Magic: The Gathering deck runs on lands, so why not use Secret Lair to make them look fancier?
Most Magic: The Gathering players don't think of lands as exciting. Even though they are important to the game, the way you put them in your deck is usually based more on math than on a strong desire to play with a certain land card. They are also often the most expensive part of the game, making it harder for new players to get in.
But what if you put plain lands together with Secret Lair, Magic's ongoing art project that tries out new ideas? You'd get a wide range of amazing pieces that are so new and bold that they might finally get you interested in lands. Here are ten of the best examples; ten lands that will help you make the most of your mana base.
Mana Confluence, By Jabari Weathers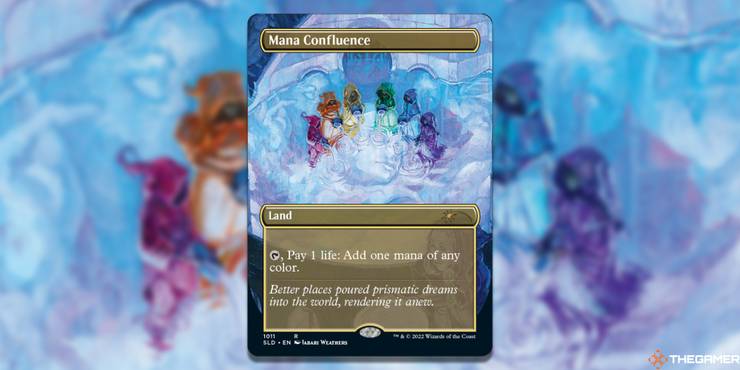 This version of Mana Confluence is part of the Pride Across the Multiverse Secret Lair Drop. It shows six rainbow-colored mages pouring liquid onto the floor to make a better, more colorful world. It's a great way to show one of the main goals of the Pride movement, and it fits perfectly with this Secret Lair Drop.
In the floor's hazy, swirling colors, you can see hints of the world that these mages are building, with all kinds of beautiful buildings nestled in white clouds. The statue in the foreground that is crying is a sobering reminder of the pain that led to the need for art like this. It grounds the piece in reality without taking away from the piece's main message of hope.
Plains/Battlefield Forge, By MSCHF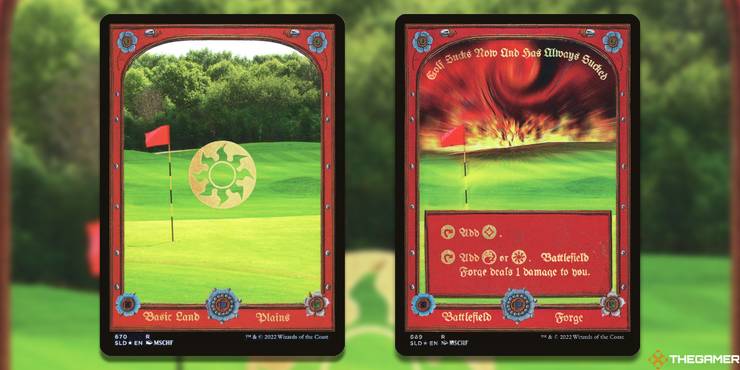 Some people might think it's "cheating" to talk about two lands in the same list entry, but if that's the case, it's just the way to talk about MSCHF's unique dual land, which breaks a lot of rules itself. For you see, MSCHF's Lair was a Secret Lair with Secret Layers. The Plains on top were just a sticker that, when peeled off, revealed the Battlefield Forge on the bottom. This was the strange joke of this card.
The Plains is strange enough on its own, showing a modern golf course framed by some kind of medieval gold decor to show that golf is the sport of the rich that wastes land. But when you take it away, things really go off the rails. In the background, a huge explosion goes off, setting the course on fire as an old font says, "Golf stinks now and has always stinkd." It's clear that MSCHF wanted to settle a score with this one. And we can't wait to hear what golf has to say.
Dracula's Tomb (Phyrexian Tower), By Nicholas Gregory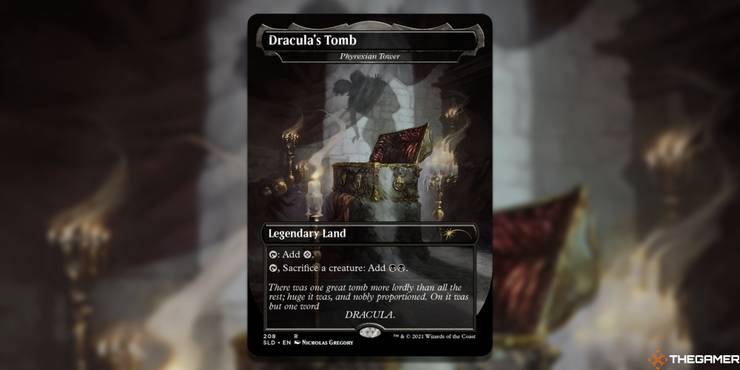 When it comes to vampires, Bram Stoker's Dracula, the Lord of Darkness, is the most famous one. Magic's designers chose to use this rich vein of literature for a number of projects leading up to the release of Innistrad: Crimson Vow. Which is the most Vampire-focused trip to the Plane so far.
The one that stands out the most is Nicholas Gregory's reimagined Phyrexian Tower. Not only does the scene have a lot of gothic elements, like flickering candles and a beautiful, ornate coffin in the middle, but it also does a great job of using shadows to show how one unfortunate person died at Dracula's hands. It has a lot of mood and does justice to Stoker's legacy.
Exotic Orchard, By Paul Mafayon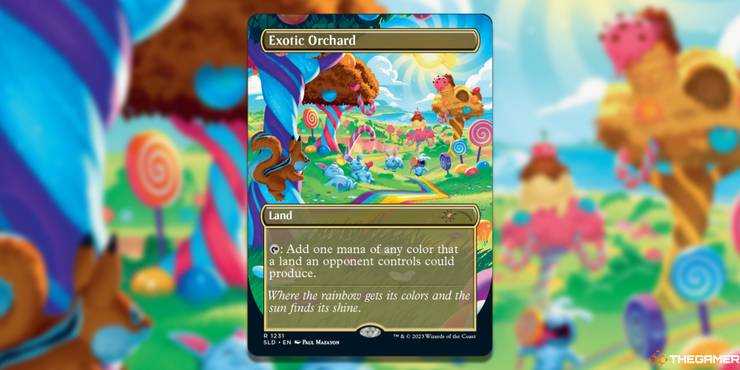 Paul Mafayon's Exotic Orchard takes us back to 1990 and is full of the carefree joy of childhood. The trees are striped rock candy, the flowers are neon-glazed lollipops, and the sun is a brightly wrapped lemon drop.
The rainbow path rolling over the green hills reminds me of the old board game Candyland, and the blue rabbits playing and relaxing on the grass make me think of lazy summer afternoons from long ago. In the same way that the best nostalgic art can make you laugh and cry, this piece can do both.
Great Furnace, By DXTR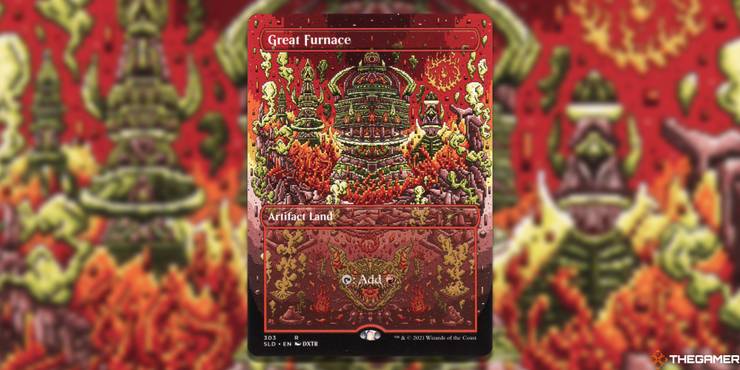 German artist DXTR combines games and graffiti in exciting ways to bring pixel art from the screen to the streets. For his Secret Lair Drop, he also did a great job of reimagining the original Mirrodin artifact lands. All five are beautifully detailed works of art, but we think his version of Great Furnace shines the brightest.
There's a lot going on here, from Krark showing up (with his two thumbs cut off) to the impressive buildings further up. Which bring to mind an entire civilization with their rich details. All of it bubbles away in a kind of stony lava soup bowl. And an ice-lolly background gradient adds a nice touch.
Shelldock Isle, By Marija Tiurina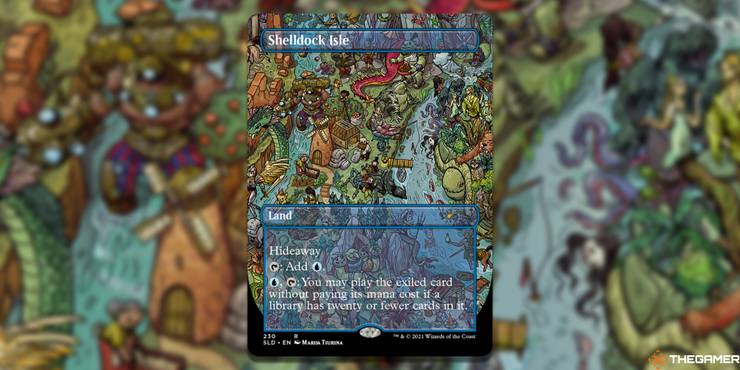 Marija Tiurina combines the fan favorite Homunculus Fblthp with the hard-to-find childhood character Where's Waldo (or Wally) to make a puzzle with five cards. Each card has a well-hidden Fblthp, so players can grab a magnifying glass and join the hunt. As with all Where's Wally art, this piece is jam-packed with small details and characters that fans of Ravnica will definitely recognize.
You can see, for example, a Nivix Cyclops paddling in swim shorts with Izzet stripes, a Centaur selling potions to Merfolk, and a Goblin petting a Dragon. We wouldn't tell you where Fblthp is. But we've heard that the river on the right side is nice this time of year…
Snow-Covered Island, By Jubilee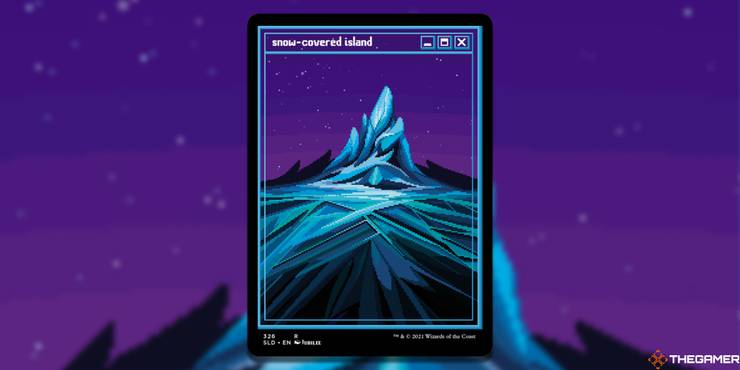 All of Jubilee's snowy pixel art lands are great, but the Island might be the best of the bunch. This picture shows a huge glacier standing proudly on a frozen sea. The interlocking layers of ice are shown with jagged lines, and a purple gradient sky with single-pixel stars looks down on the scene.
The framing is what really makes this piece stand out, even though the main composition is beautiful. The piece is set up so that it looks like you're looking at it in a pixel art program. There's a typical user interface on top of the art, with buttons to minimize, maximize, and close, and a font that looks like it's from the 1980s. It's a great finishing touch that makes this land even more different from its cold neighbors.
Tokyo Swamp, By Mr. Misang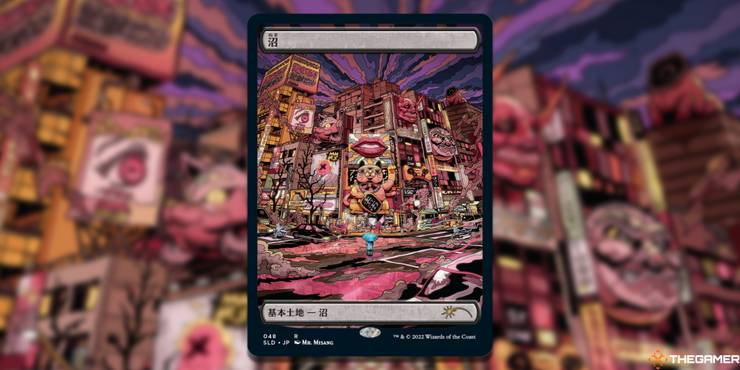 There is a good case to be made that modern cities, with their fog, pollution, and dark corners, could easily stand in for Swamps in Magic. This is a point that Mr. Misang makes in his contribution to the Tokyo Lands. Which are a set of basic lands set in Japanese cities.
With its constant advertising and tall buildings, city life has a dark side that is on full display here. The red light of sunset makes the huge sculptures look even more menacing. It's a smart piece that does a great job of telling a story with the colors it uses.
Gemini Mountain, By Jeanne D'Angelo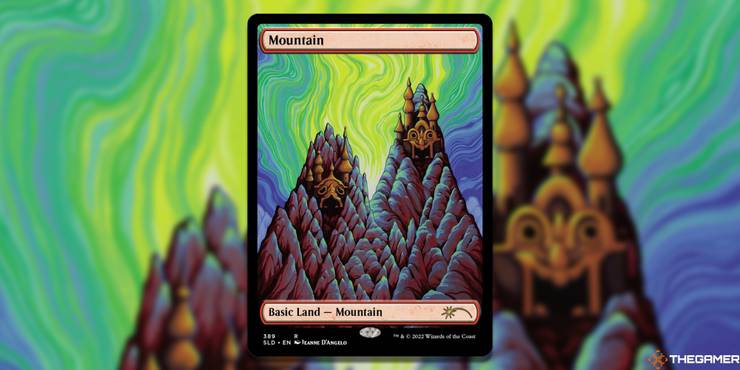 The Zodiac Lands were kind of like a big Secret Lair cycle, with each one coming out in its own drop. All of these are great in their own ways. But Jeanne D'Angelo's Gemini Mountain is one of the easiest and best.
There are, of course, two mountain peaks in Happy Wheels, and each one is topped with a temple that looks like a Greek tragedy mask. In these temples, the duality of the Gemini sign is clear, and the bright green and blue background is a surprising choice that adds to the "astral" feeling this series was going for and finding among the stars.
Desolate Lighthouse, By Nico Delort
This version of "Desolate Lighthouse" pulls the viewer right into a dark, detailed world, like the first shot of a Tim Burton movie. The Lighthouse is a shaky, over-the-top building that is still standing despite the storm that is hitting it. Even in cardboard form, its beams are so bright that they blind you. They cut right through the cardboard, leaving nothing but darkness in their wake.
Then there are the waves, which are huge white swaths with a lot of tiny lines that show how they rise and fall. Even though it has some dark sounds, the piece is full of light. From the tiny windows in the Lighthouse to the stars in the sky. All of this comes together to make a beautiful picture of life and death, fit for any darkened theater screen.